Kevin M. Curley, II of Global Wealth Advisors Honored with Five Star Wealth Manager Award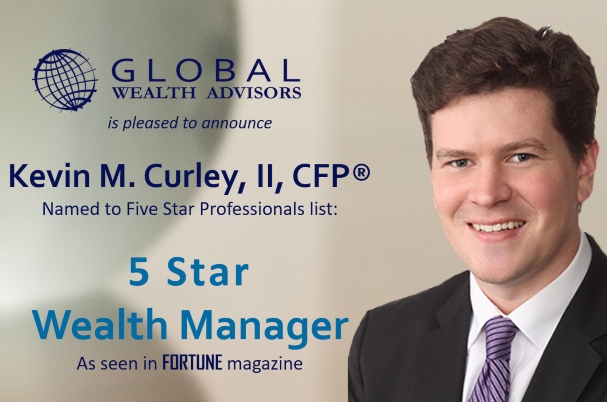 DALLAS, TEXAS (September 15, 2020)—Global Wealth Advisors, an RIA in Dallas, Texas, today announces that its Wealth Advisor Kevin M. Curley, II, CFP®, has been named to Five Star Professional's Wealth Manager list for 2020. He is featured as a Five Star Professional Wealth Manager under the age of 40 in the September 2020 issue of Fortune magazine.
Kevin joined Global Wealth Advisors in 2017 and serves the DFW area out of the Dallas Turtle Creek location. Whether the goal is investment management, asset protection, retirement income distribution, education planning, business succession, estate planning, philanthropy, or a combination of these, his unique 3P Approach© to planning helps clients stay on track with their goals.
Kevin is happy to be included in the 2020 list, "Being recognized in Fortune as part of the Five Star Wealth Manager list while under the age of 40 is significant because it confirms that our approach to planning delivers a high-quality experience to our clients. When an independent research team recognizes this, it reinforces our mission of helping people live more and worry less."
Five Star Wealth Managers for 20201 are identified through one of three sources: firm nomination, peer nomination or prequalification based on industry standing. Self-nominations are not accepted. Award candidates were identified using internal and external research data. Candidates do not pay a fee to be considered or placed on the final lists of Five Star Wealth Managers. 
About Global Wealth Advisors
Global Wealth Advisors has been providing individuals and organizations with financial guidance since 2008. Located at 2101 Cedar Springs Rd., Suite 1050, Dallas, TX 75201, (214) 613-1252 , the firm prides itself on crafting unique strategies for each client. For more information, please visit www.gwadvisors.net.
Securities and advisory services offered through Commonwealth Financial Network®, Member FINRA/SIPC, a Registered Investment Adviser. Financial planning services offered through Global Wealth Advisors are separate and unrelated to Commonwealth. Fixed insurance products and services offered through Global Wealth Advisors or CES Insurance Agency.
1 Based on 10 objective eligibility and evaluation criteria, including a minimum of 5 years as an active credentialed financial professional, favorable regulatory and complaint history, accepts new clients, client retention rates, client assets administered, education, and professional designations. 4,374 Dallas-Fort Worth wealth managers wealth managers were considered for the award; 335 (8 percent of candidates) were named 2020 Five Star Wealth Managers. These awards are not indicative of the wealth managers' future performance. Your experiences may vary. For more information, please visit www.fivestarprofessional.com.
###
Click this link to view the team's press release.
Back To Blog