If you are considering selling your financial planning practice, you are likely seeking the right fit for you, your family, your staff, and your clients.  When it comes to making an acquisition, we share this value.  We believe that finding the right fit is critical for all concerned.
We are searching for opportunities to expand our scope by acquiring practices from successful advisors who share our client service philosophy.
Philosophy
We believe in the value of taking a complete wealth management approach to address each client's financial situation.  We're known for taking a conservative approach to wealth and investment management and have built a reputation based on sound judgment and prudent decision-making—values that have helped so many of our clients protect their existing assets and successfully pursue their goals.
The commitment to put every client's interests first is evident in every aspect of our business.  We are proactive in servicing clients and highly effective and thorough in our process and operations, ensuring a client never outgrows a stagnant plan. By applying our proprietary 3P Approach©  to financial planning, our clients experience a highly personalized approach.
Opportunity
In business, it is essential to have partners who are dynamic, growing, and attractive to the marketplace.  Our firm fits this mold. We are open to working with other advisors in a variety of financial and life situations, including:
• Acting as a continuity partner
• Acquisition for purposes of retirement
• Merger with intentions of a long-term succession plan
• Partial practice sale
Request an Introductory Kit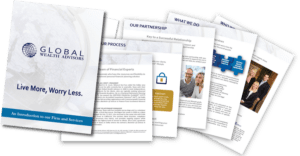 If you've decided to sell your wealth management practice, we invite you to become familiar with our firm, people, and process. We are happy to forward an introductory kit to you which outlines our ideal acquisition criteria.
We know that you want what is best for your clients and that you also want what is best for you and your family.  If you have a practice built on using a consultative process to service your client's needs, we welcome the prospect of talking with you to see if we have a good fit and alignment of goals.
For selling and merging advisors, we recommend using your personal email and phone number.
Learn more about Global Wealth Advisors' history and where we're headed, also about our media contacts, brand, and press releases.