Great Apps for Seniors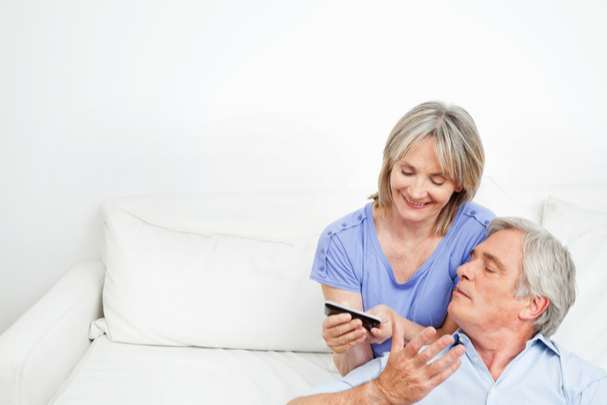 By Kris Maksimovich, AIF®, CRPC®, CPFA®, CRC®:
Who say's aging isn't any fun? With age comes wisdom, and a little spare time to organize ourselves and have a little fun in the process. We've put together a list of free apps specifically with seniors in mind, which are designed to help make your life easier:
GETTING AROUND TOWN 
Let's face it, at one time or another we've had that "deer in a headlights" look when we forget where our car is parked. Did you know that there's an app for that?
Honk for IOS is a great app to help you remember where you parked your car, using a virtual pushpin and GPS to mark it. The map also has a digital compass to help you find your car when you're ready to return to it. You can also take a photo of the area and write a memo to help remind you where you parked. What's more, you can move your parking pin if your GPS is not exact. It is optimized for parking meters as well, and even has a meter reminder to let you know how much time you have left.
Find My Parked Car for Android is similar to Honk and has automatic parking detection using GPS, offers single-tap parking, photo and notes option, alarm for metered parking and walking navigation to help you find your car.
Don't want to download yet another app to your phone? The map apps you already use may offer a toned-down parking version.
Google Maps for Android and Apple Maps for IOS enable you to select your blue dot located on the map when you've stopped, and then mark it for parking in the app. Your map will store that location, helping you relocate your car.
ParkMobile Parking for Android or IOS offers you the ability to find the cheapest parking around, lets you pay up front and offers a parking timer for metered spaces. The app even shows you how many parking spaces are open in certain lots and helps you locate your car using GPS.
Waze Navigation and Live Traffic for Android or IOS offers the ability to navigate around traffic and hazards. The app lets you know about backups, police activity, construction, accidents and even helps you find the cheapest gas along your route.
Gas Buddy for Android or IOS is super helpful if you travel a lot by car. It helps users locate the cheapest gas in the area, sends you gas hike alerts and offers you information about gas station restrooms and cleanliness. 
STAYING HEALTHY
Medisafe Pill Minder for Android lets you add a list of your medications, set reminders to take meds, set refill reminders and even track blood pressure and other measurements. The app also offers discounts and mobile coupons on prescriptions for you to use at the pharmacy.
Map My Fitness and Map My Walk for Android and IOS lets you discover new workout routes and connect with your other fitness devices like Fitbit. With this app you can also join friends for extra motivation, and even track mileage on your sneakers so you know when to buy a new pair.
Good Rx for Android and IOS helps you find the lowest prices for meds for the whole household, including your pets. You'll be able to compare pricing between pharmacies and also use mobile coupons.
Headspace: Guided Meditation and Mindfulness for Android and IOS enables you to relieve stress and sleep better. Created by a former monk, there are exercises to help you manage anxiety and breathing. 
SECURITY 
Though these apps aren't free, mention of password managers are incredibly important for your online safety. These apps also offer mobile access, which is helpful when you are traveling. There are many to choose from, but some highly-rated ones include Dashlane, Sticky, RoboForm and LastPass. 
FINANCIAL 
Investor360°® for Android and IOS offers you the ability to check your account balances, transactions and view a summary. This is a great option for checking your balances while on the go.
Tip Calculator for Android. Ever get up from the counter at your favorite cafe and plunk down a tip without thinking? Tip Calculators help you figure out how much to tip, and they can even help you split checks with ease.   
ENTERTAINMENT
Audible for Android and IOS will let you sit back and listen to audiobooks. Though this is not a free app, it's certainly worth mentioning here. Another great feature is that you can even hear top celebrities narrate their favorite stories.
Old Time Radio for Android has you covered when you are feeling nostalgic. Travel back in time and listen to the radio dramas and comedies of yesteryear such as You Bet Your Life and Sherlock Holmes.
Word Brain for Android and IOS offers users games to help keep your mind nimble. Game difficulties run from newbie to super user and offer interesting themes such as holiday, food and space.
Sudoku for Android and IOS. Prefer number games? There are thousands of sudoku games with a variety of difficulty levels. This app also offers learning tools and portrait or landscape options, including left- and right-hand options.
###
Kris Maksimovich is a financial advisor located at Global Wealth Advisors 4400 State Hwy 121, Ste. 200, Lewisville, TX 75056. He offers securities and advisory services as an Investment Adviser Representative of Commonwealth Financial Network®, Member FINRA/SIPC, a Registered Investment Adviser. Financial planning services offered through Global Wealth Advisors are separate and unrelated to Commonwealth. He can be reached at (972) 930-1238 or at info@gwadvisors.net.
Check out these additional articles on the topic.
©2018 Global Wealth Advisors
Back To Blog