Benefits of Business Insurance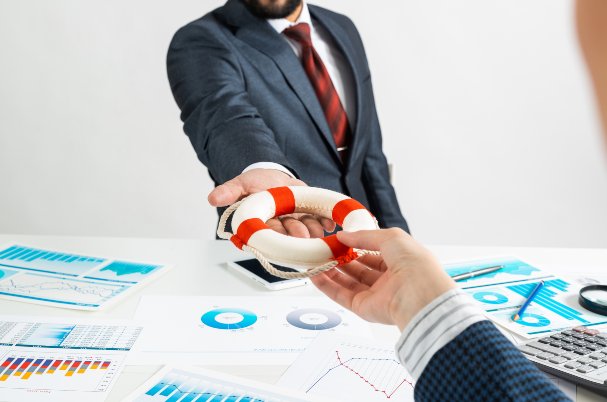 Presented by Tom Kennedy, CFP®:  Owning a business comes with responsibility and stress. What if you owned the building in which you do business and it burned down or was vandalized? You would be responsible for repairing the damage, either with business or personal assets. What if someone hurt himself with your product or injured herself on your property? You would be liable for the damages. And what if your co-owner became ill or a key employee became disabled? Could your business survive in their absence, or would you have to dip into your own assets to cover expenses? These misfortunes happen to small business owners all the time. They can force companies and their owners out of business or into debt. To protect your business from these risks, we advise you to purchase business insurance.
Benefits of Owning Business Insurance
1) To protect against risks and perils to property. Just like your home,* your business is susceptible to damage. The loss or damage of business assets could result in an interruption of the business process or even a complete shutdown. To protect your business, you can buy various types of business insurance, such as building and equipment insurance, valuable papers insurance, crime insurance, and business interruption insurance. The right combination of property and casualty insurance can mean the difference between a temporary shutdown to make repairs and permanent closure.
2) To protect human assets. Within most small businesses, there are key employees without whom the business would weaken or fail. If something were to happen to you, could your company survive? Could your business pay its overhead if key personnel could not work? You can protect against the loss of human assets by purchasing company-owned life and disability insurance to cover key personnel and co-owners. If you (the covered owner) or a covered employee were to die or become disabled, the policy would provide payments to cover the loss of income generated by that individual. Funds provided by the policy could help the business continue operations and remain competitive while a replacement is found. (Keep in mind that these policies are different from workers' compensation insurance. Workers' compensation pays employees for work-prohibiting injuries, while business insurance compensates the business for the loss of a key employee.)
3) To protect against liability claims. Providing services comes with risk. Through contact with the public and through personal injuries suffered on your business premises, your company could face liability claims and lawsuits. Liability insurance can provide funds to settle claims, sparing your business (or your own bank account) the expense. Liability coverage may also include legal representation in the event of a lawsuit. But, remember, if you provide professional services (e.g., doctor, lawyer, accountant), a general liability policy doesn't cover losses arising from your professional acts incurred by third parties. In these cases, you may need professional liability insurance, such as malpractice insurance or errors and omissions insurance.
4) To protect against data breach and cyber risk. Cyber insurance is an important consideration for business owners. It can help provide notification support for clients, as well as cover the cost of credit monitoring for victims.
5) To attract and retain employees. Business insurance is a crucial component of most employee benefit packages. In addition to salary, employees seek benefits that will help them improve their quality of life outside the workplace. By offering group insurance coverage (i.e., life insurance, health, disability, and long-term care insurance) as part of your company benefits package, you may be able to attract and retain employees who might otherwise be hired by competitors.
Sometimes You Are Legally Required to Carry Business Insurance
While these reasons demonstrate the benefits of owning insurance, your business may be required to own insurance by law or by the terms of your contracts. Depending on the size of your business, the industry in which it operates, and the state where you do business, you may be required to carry workers' compensation insurance. Some states require businesses to purchase disability insurance for employees, and some states require professional liability insurance as a condition of licensing. In addition, various contracts you enter into might require that you own insurance. For example, if you rent or lease your business facility, the contract with your landlord may require that your business carry its own property insurance. If you or your business borrowed money to finance buildings, equipment, or operations, the loan agreement may also include an insurance requirement.
How We Can Help
As the owner of a small business, you take on many risks and requirements. We will work with you to defray and transfer the risks associated with your business. As your trusted financial professional, we will help you put together the appropriate mix of insurance products to ensure that you and your business are sufficiently protected. 
Follow this link to find additional information on business insurance.
###
Tom Kennedy is a financial advisor located at Global Wealth Advisors 520 Post Oak., Suite 450, Houston, TX 77027. He offers securities and advisory services as an Investment Adviser Representative of Commonwealth Financial network®, Member FINRA  / SIPC, a Registered Investment Adviser. Financial planning services offered through Global Wealth Advisors are separate and unrelated to Commonwealth. He can be reached at (832) 649-8111 or at info@gwadvisors.net.
© 2021 Commonwealth Financial Network®
Back To Blog