Wedding Finances Survival Guide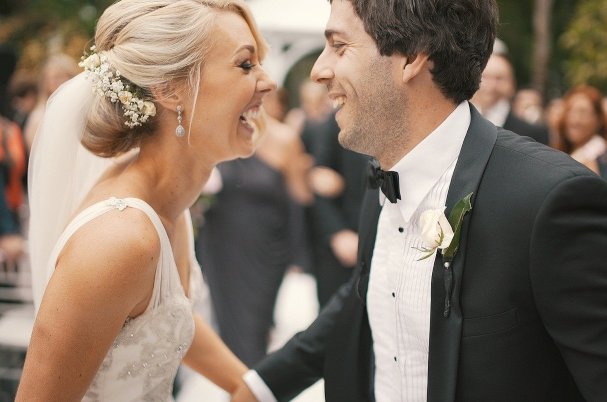 Expecting the bride's family to pay for the wedding is nearly a thing of the past, especially with today's high cost of weddings.
By Kris Maksimovich, AIF®, CRPC®, CPFA®, CRC®:
According to findings in a recently published CNBC article, a wedding alone is expected to average $29,000 in 2023. Add in the $6,000 average cost of rings and the total price soars to $35,000. Along with the stress of planning and paying for a wedding, the happy couple is often responsible for negotiating guest lodging, the wedding party's attire, and purchasing the obligatory wedding party gifts.
Today, weddings can be costly for all participants, not just the couple and their families. Wedding guests can also rack up a fair share of expenses with travel, hotels, wedding attire, and gifts.
If you're planning your special day, following a financial survival guide may help reduce your stress and enable you to stick within your budget.
How Do You Pay for A Wedding?
Traditionally the bride's parents covered the ceremony and reception while the groom's covered the rehearsal dinner. Today, couples are taking on much more of the financial burden than they have in the past. The average age of new couples is now closer to age 30 which makes it likely that they have more established careers and are less financially dependent on their parents.
To pull off the wedding of their dreams, however, most couples must get creative about how they pay for it. Common sources for funding a wedding include:
Gifting from the bride's and groom's parents –Today, the couple's families often set a specific amount they are willing to pay toward a wedding, though they should be mindful of gifting rules. For 2023, family members can give $17,000 per person under the annual gift tax exclusion. If they give an amount over $17,000, they will need to file a gift tax return. This would also reduce their lifetime exclusion amount ($12.92 million in 2023). To prevent this, parents should avoid writing large checks directly to the couple. If they do plan to cover a portion of the wedding expenses, it may be more tax efficient to pay the vendor directly.
Gifting from other family members – Since many of today's couples are more established than their counterparts several decades ago, they do not necessarily need help setting up a new home. Some couples create a honeymoon or new house fund in place of gifts. This enables family and friends to help contribute to their future instead of buying household items the couple may not need. Again, the gifting rules stated above would apply.
The couple's savings – Many engaged couples spend months planning for what is supposed to be one of the most memorable days of their lives. Setting aside money each pay and stowing any tax return refunds can help build up a reserve.
Virtual financing – Some companies offer interest-free financing through a virtual card or app where couples can shop now and pay later for their wedding needs. Buying items like the wedding dress, flowers, and tux can be financed through sites like Affirm.com, which allows couples to repay in four payments, and Afterpay.com, which allows repayment over a term of six weeks. While these types of companies may provide financial flexibility, the interest rate and fines for going over the terms can cut into the wedding budget.
Point of sale loans – Some stores offer couples the ability to make interest-free payments over a specified time by selecting that option at checkout. This alternative can be handy for purchasing wedding party gifts, favors, and a wedding trousseau, by charging your payment method over several installment payments.
Maximizing credit card points and rewards – Couples may help pay for (or pay off) their wedding or honeymoon by maximizing points and rewards. Using credit cards to pay for the wedding may provide the benefit of cash-back rewards and travel points or offer 0% APR periods. Again, interest charges may be added if you extend beyond the payment period stated in the offer.
Tapping 401(k) retirement accounts – This option should be considered only if you plan to remain working with your present employer, or you may have to repay the loan or pay a penalty and taxes. Additionally, using this option may subject you to early withdrawal penalties and can jeopardize your nest egg because the money will no longer grow in your tax-advantaged account.
Personal loan – Some couples may go into debt by taking out a personal loan to pay for their wedding. This method allows couples to plan their future budget by setting up monthly installment payments. While they can shop around for the best deal, taking a loan means couples may end up paying higher interest rates, up to 36%. It is important to note that couples must continue to pay off the loan even if the marriage does not survive.
Negotiate with vendors – Couples may wish to reserve a block of hotel rooms for their wedding guests. While the guests pay for their own accommodations, couples may be able to negotiate a reduced cost for their bridal suite depending upon how large the out-of-town guest list is. Couples can also negotiate extra amenities such as shuttle service to and from the wedding, airport transportation, and free breakfasts for guests, among others.
Unexpected Expenses Can Affect Your Wedding Finances
To fully understand what they are paying for, couples should be sure to ask questions before they sign the contract. Some topics to consider should include:
Outside professional use – Some venues may charge additional fees if couples hire outside professionals such as a florist, cake baker, and sommelier. Check to see if your chosen wedding venue has a preferred or required vendor list.
Cake cutting and corkage – Many venues charge additional fees for every bottle that a staff member opens, as well as for cutting the wedding and groom's cakes. Be sure to read the fine print in your contract to avoid any unpleasant surprises.
Taxes and gratuities – Be sure you understand whether your contract includes gratuities or if you need to be prepared to pay them onsite to church officiants, musicians, and wait staff, to name a few. Allocating a sufficient portion of the wedding budget to cover taxes and gratuities not included in the contracts can avoid unexpected costs from tapping the budget.
Overtime – Understand any fees that are required to pay for overtime of photographers, musicians, and wait staff, should the wedding celebration go over the allotted time.
Plan Ahead for A Stress-Free Wedding
Your wedding should be a memorable and joyous celebration of your love. With proper planning and a wedding finances survival guide, it is possible to keep your wedding expenses under control and avoid depleting your savings or taking on additional debt with surprise costs.
The views and opinions expressed are for general informational purposes only and are not intended to provide or be a substitute for specific professional financial or tax.
Prepare for a financial life together by having these 6 money conversations.
If you'll be traveling on your honeymoon, learn whether you need travel health insurance or not. 
###
Kris Maksimovich is a financial advisor located at Global Wealth Advisors 4400 State Hwy 121, Ste. 200, Lewisville, TX 75056. He offers securities and advisory services as an Investment Adviser Representative of Commonwealth Financial Network®, Member FINRA/SIPC, a Registered Investment Adviser. Financial planning services offered through Global Wealth Advisors are separate and unrelated to Commonwealth. He can be reached at (972) 930-1238 or info@gwadvisors.net. 
© 2023 Global Wealth Advisors
Back To Blog