20 Ways to Reduce Your Digital Footprint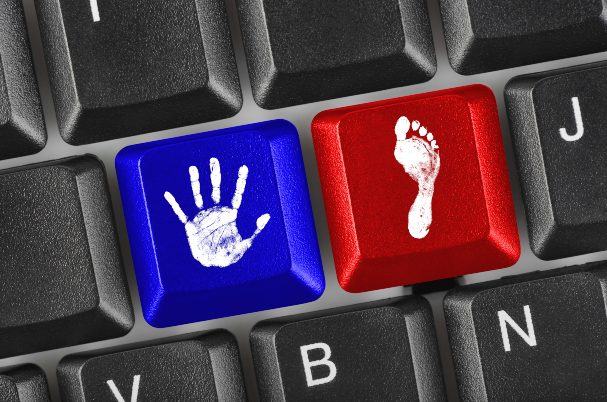 After searching for your name online, were you shocked to find how much personal information is publicly available? How do you reduce the trail you leave behind every time you go online? While there is no way to completely remove your digital footprint, the Global Wealth Advisors Director of Communications has compiled a comprehensive list of strategies you can use to reduce it.
By Pamela Engstrom:
One important task that marketing specialists engage in is helping employers expand their digital footprint. That's because increasing a company's reach makes it easier for people to find them. Marketers also track what people are looking at online through a variety of tools. While this helps guide the type of content and ads served, not everyone appreciates this lack of privacy.
When a client reached out and wanted to know how to reduce their online footprint, it was a challenge antithetical to what I do as a branding artist—to expand our digital footprint and help people find the information they need, when they need it. Still, since I understand how to entangle people within the web, it makes sense that I might help untangle them as well. If you're ready to go off-grid and regain a bit of privacy, this comprehensive list of strategies can help you reduce your digital footprint.
What Is a Digital Footprint?
It's important to understand what comprises your digital footprint so you can better control it. The fact is that everything we do online is traceable. Like dropping breadcrumbs along a path, all your online activity leaves behind a trail that can be bought, sold, shared, or even stolen without your knowledge or your approval. While some countries are writing laws about online privacy, taking back ownership or total control of your data is not yet widespread.
Your digital footprint is comprised of activities like your shopping habits and all the websites you visit. It can also include personally identifiable information such as your birthdate, address, and phone number. Building this footprint comes from a certain amount of give-and-take. Every time you create a shopping account or a profile on social media platforms or other pages, you have actively shared your data. When you use online sites by shopping or simply visiting pages, you passively share your activity which is collected through cookies and other technology. This data is like gold, of which most people do not hold control.
Through artificial intelligence and other technology, you can be served ads on your favorite social media platform or search engine almost immediately after clicking on or expressing interest in something online. Once this digital footprint is created, it is virtually impossible to remove. Through patience and hard work, though, there are ways you can reduce the trail you have created through the years.
Strategies for Removing Data Stored About You
If you are concerned about your privacy, working through these strategies can help mitigate your data vulnerability:
1) Start with a Google search – One of the fastest ways to view your digital footprint is to perform a Google search using your name as well as any previously used names. It may be shocking (and infuriating) just how much personal information about you appears in your search.
You should also search your usernames, which most people commonly reuse. It might surprise you to find your usernames and even passwords have made it to the web.
Make a note of the websites so you can work on those first since they appear at the top of the search results. Keep in mind that results will change, so it's best to check back every couple of weeks while you work through the process of removing your details.
2) Deactivate or delete old accounts – Perform an audit of all the accounts you use online. Do you still have an old Myspace or Classmates account? Do you no longer shop at Starbucks? How about the job search sites where you uploaded your resume and personal details? These accounts store a wealth of information about you. They have not only your personal details but also your shopping and viewing habits.
While finding all the accounts you have created throughout your online life may feel daunting, there are a couple of tricks you can use:
If you store your login credentials and passwords in a password vault, you can find an alphabetical repository of your accounts there.
You can also look through your bookmarked websites as another repository of potential online activity.
If you are not using a password vault, Wikipedia holds a list of most visited websites that may help jog your memory.
Start by logging into each account you no longer use. Look for deactivation, close, or remove options under your account settings, security settings, or in the privacy statement. In some instances, you may need to contact the account grantor to request your account be removed.
If you are unable to deactivate or remove an old account, you may be able to change the profile or account details to fake demographics.
3) Dealing with email accounts – When creating a new account, use a service such as Blur to mask your information. If you haven't already, you should designate an email you already use as a "junk" email and edit the account or about section to remove as many personal details as you can.
Close your old or unused email accounts. If you are wondering just how harmless an old email address can be, here is an interesting look at what hackers can do with your email address.
4) Unsubscribe from email lists – If you aren't reading the emails, unsubscribe from them so they can no longer track whether you open them or not. A bonus is that you will declutter your email box.
5) Remove yourself from data collection sites – In the online search for your name, it is likely you came across data collection sites such as MyLife, USA People Search, Spokeo, Intelius People Connect, BeenVerified, and White Pages. Visit the sites and search for options to remove your details, usually on the privacy tab or link usually buried at the bottom of a webpage. You may need to locate the URL to your profile and enter it as part of the removal process.
In the case of Intelius People Connect, you will need to create an account where you can "suppress" information shown about you. Be warned, however, removing yourself from these sites is usually a lengthy, and frustrating process.
There are also paid services available that will perform this for you such as DeleteMe, Guaranteed Removals, and Norton Privacy Monitor Assistant to name a few. DeleteMe also offers a free do-it-yourself opt-out guide with instructions on the top sites.
6) Disable location tracking – Check the apps you use on your mobile phone for location tracking in the setup. This often provides you with location-based suggestions but can also track your every movement. If you want to continue using the app, keep in mind that you can toggle on and off the tracking when you need to use the service.
7) Remove personal information on social media – Review your social media accounts and remove any personally identifying information that you can. To help reduce your digital footprint, stop filling out quizzes that ask you to checkmark items like states visited or favorite items. Also, stop taking those personality polls like which comic book character, dog, or celebrity best fits your personality. These questionnaires are designed to get you to unwittingly share more personal details than you might normally, including answers to security questions.
8) Review the privacy and security settings – Check your privacy settings on the social media platforms you use including all publicly available information. The Social Pilot published a good article on managing social media privacy settings.
Also, remember to keep all your devices up to date by turning on automatic updates. These updates often fix or enhance security flaws that can be exploited by hackers and others.
9) Remove your info from websites – When locating old activity online such as an outdated church directory or an obsolete bio from a former employer, you can reach out to the website directly. The "contact" or "about us" pages may offer contact details. Where such details are lacking, you can always search Whois.com which publishes domain name contacts for websites. It's a pretty good bet these contacts will have direct access to the site or to a web developer who can remove your details.
Don't forget to look at photos that show up in an online search of your name. If a cringe-worthy photo has shown up on Google from your younger days, search for the steps to remove it through the hosting website. If all else fails, you can request the image be removed directly from Google.
While attempting to remove sensitive information such as a social security number or investment account number, you can always reach out to Google directly by making a legal removal request. While there is no guarantee you will get the information removed, it is certainly worth a try.
10) Remove unused apps – Every app on your phone or tablet has the potential to collect and store your personal information, including your contacts and photos. It's important to note that when you download an app to your mobile phone or computer, read and understand the terms and conditions. Most people blindly check the box to quickly get to the download without understanding they are giving the app carte blanche access to private information, contacts, and usage details.
11) Use burner demographics – You can always resort to providing fake details about yourself for non-essential online use. Using a different birthdate, email, and name can help protect your identity.
With the current environment of calling out and shaming people online for their opinions (called doxing), you might even entertain the idea of using a pen name on your social media profiles. This tactic is especially helpful if you do not want your activity to find its way back to your employer.
12) Use stealth or incognito mode when searching online – Your web browser should enable you to use "stealth mode" which helps reduce your digital footprint by keeping websites from tracking your activity. For example, you can click the ellipses (three vertically aligned dots) in the upper right corner of your Google Chrome window and select "New Incognito Window".
Alternatively, you can download a privacy protection platform such as DuckDuckGo on your computer, tablet, and mobile phone. They claim to offer search engine and browser app privacy.
13) Use addon extensions or plugins – There are a variety of free tools you can download to your web browser that indicate which trackers are used on the websites you visit. For example, Google Chrome and Android offer the WOT website security and privacy protection plugin which checks a website's security score before you visit. TrafficLight scans websites for malware and phishing and verifies legitimate websites.
14) Subscribe to a VPN – Subscribing to a Virtual Private Network can offer a layer of privacy for your router, computer, tablet, and phone. It works by encrypting all data you send and receive over the internet, masking your IP address, and reducing the ability of websites to track your actions. Services like Express VPN, NordVPN, or Surfshark can help you get started.
15) Avoid free Wi-Fi connections – While easy to use, there is rarely any encryption on free Wi-Fi services at restaurants, hotels, and coffee shops. Hackers can intercept your data, steal passwords, and even eavesdrop on your conversations.
16) Block spammers – Spam is one of the most popular ways people unwittingly provide their personal data. Use the apps provided by your mobile service provider to block spam calls like AT&T Active Armor, T-Mobile Scam Shield, and Verizon Call Filter. If you don't have access to those, you can also consider using an app that enables blocking based on user reports such as Hiya or Robokiller.
17) Opt-out – Reduce your digital footprint by adding yourself to the National Do Not Call Registry to opt out of unwanted sales calls.  It's free to register your home or cell phone number. Go to donotcall.gov or call (888) 382-1222 from the phone you want to register.
Also, put an end to most prescreened offers from credit card and insurance companies and reduce the amount of junk mail in your mailbox. To opt out for five years or even permanently visit optoutprescreen.com or call (888) 567-8688 or return the Permanent Opt-Out Election form found online. The major credit bureaus operate the phone number and website so when you visit or call, expect to provide your personal information.
You can also determine what type of marketing mail you do not want to receive. You can register at the Direct Marketing Association's (DMA) consumer website DMAchoice.org and choose the catalogs, marketing magazines, and other mail you would like to get from DMA companies. While they charge a $2 processing fee online or $3 by mail, your registration will last for 10 years.
18) Regularly clear your web browser cache – Regularly clearing history, cookies, and cache from your computer can help reduce your digital footprint by keeping websites from tracking your online activity. Plus, all those trackers can slow down your computer.
You might also consider using ClickClean which puts the control in your hands by deleting tracking cookies, cache, and history in one click without logging you out of your favorite email and social media platforms.
19) Sign up for an identity protection service – With so many data breaches, you may not be aware of what personal information is on the dark web until it's too late. Sites like Equifax, Experian, Transunion, and LifeLock offer credit monitoring, identity protection, and dark web monitoring to help keep you informed. If you are already a victim of identity theft, the Federal Trade Commission offers a free identity protection service. Click "Get Started" on the IdentityTheft.gov website to report it and get help.
20) Think before you act – Think long and hard about what you share online, even with family members. Once published, service providers or others may see or store your information. Avoid clicking on surveys and clickbait. Be sure to look for hypertext transfer protocol secure (HTTPS) websites that encrypt the data exchanged between your device and the site. Think twice before visiting websites, entering data, or making purchases on HTTP:// sites that do not end with the "s" which ensures the site is "secure" by the widely accepted HTTPS:// protocol.
Striking a Balance
Erasing yourself from the internet may sound ideal, but there are a few drawbacks as well. You may make it harder for family and friends to locate and connect with you. You may also make it difficult for recruiters or potential employers to locate you, especially if you remove your details from job boards and LinkedIn. Also, going totally incognito may be cause for pause for college admissions and job candidate reviews.
If you wish to network or work in a field that requires a portfolio of work, use branding sites that aggregate your information to make it easy for people to find you such as LinkedIn or About. me or Wix. These are generally found at the top of search engines so any family, friends, or employers searching for you will be served what you want them to see first. What's more, you'll be able to control what people can see about you in the privacy settings, and when you no longer need these services, you can take the steps above to remove your data and close the accounts.
If you are concerned about your privacy, you're not alone. Balance keeping a large digital footprint with the catastrophic effects of identity theft and cybercrime and ask yourself if the tradeoff is worth giving up your privacy.
Learn what happens to your stolen information through dumpster diving.
###
Pamela Engstrom is a communication specialist with over 15 years of experience in marketing communications. She holds a Master of Arts in Communication, New Media, and Marketing and serves as Director of Communications for Global Wealth Advisors located at 4400 State Hwy 121, Ste. 200, Lewisville, TX 75056. She can be reached at (972) 930-1238 or at pamela@gwadvisors.net.
This material has been provided for general informational purposes only and does not constitute legal or security advice. Although we go to great lengths to make sure our information is accurate and useful, we recommend you consult a lawyer or security professional.
© 2023 Global Wealth Advisors
Back To Blog