2nd Annual Nickel from Nicole Event 2019
February, 2019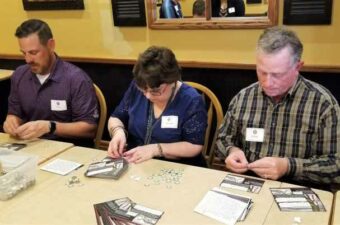 On the way to a birthday party in 2010, passenger Nicole LeGrow was killed because of teenage reckless driving. Through their grief, her parents Jeff and Sharlene knew they must take Nicole's story to other teens. To help school districts educate their student drivers, the LeGrows created the non-profit Nickel from Nicole to help spread the message about inexperienced, distracted, impaired and reckless teen driving. According to the CDC, the number one cause of teenage deaths in the U.S. is vehicular accidents.
Our team partnered with Nickel from Nicole for a second year by hosting a volunteer event in the spring. At the event, volunteers built "nickel cards" which were sent to various school districts, student councils and clubs to help remind young drivers to make safe choices.
Our NFN volunteer events have been a big success. So far, we have been able to build over 3,700 nickel cards for the non-profit. You can learn more about Nickel from Nicole at www.nickelfromnicole.com.
Helping save lives "one nickel at a time"!