Annual Nickel from Nicole Event
April, 2023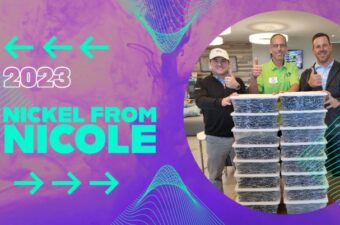 In our fifth annual Nickel from Nicole volunteer campaign, the GWA team joined clients and friends in providing education, advocacy, and support for young drivers. At this hands-on event, volunteers built "nickel cards" that are used as part of its program to remind young drivers and their parents about the dangers of distracted and reckless driving.
Nickel Campaign
These cards are sent to various school districts, student councils, parent councils, and clubs that request them. The 501(c)(3) also supplies everything needed for volunteer groups to build these nickel cards. The objective is to get teenagers (and adults) to place a nickel on their dashboard as a constant reminder to drive safely. The founders hope to encourage family, friends, neighbors, schools, churches, youth groups, teams, and more to do the same. To date, Nickel from Nicole has overseen hundreds of thousands of Nickel Cards that have been assembled and shipped around the world to fulfill requests.
About Nickel from Nicole
On the way to a birthday party in 2010, passenger Nicole LeGrow was killed because of teenage reckless driving. Through their grief, Nicole's parents Jeff and Sharlene knew they must take her story to other teens. To help school districts educate their student drivers, the LeGrows created the non-profit Nickel from Nicole to help spread the message about inexperienced, distracted, impaired, and reckless teen driving. The CDC reports that the number one cause of teenage deaths in the U.S. is vehicular accidents.
About the GWA Gives© Program
As part of the GWA Gives© program, we support small nonprofits that share our mission of giving back to the communities in which we live, work, and play. Our Nickel from Nicole volunteer events have been a big success. So far, we have been able to build over 10,400  nickel cards for the non-profit.
You can learn more about Nickel from Nicole at www.nickelfromnicole.com.