Annual Jonathan's Place Supply Drive
May, 2023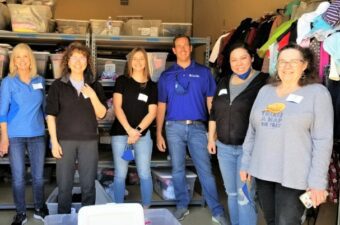 After spotting calls for help from a local nonprofit that received heavy damage from the deep winter freeze, the staff in our Lewisville office wanted to offer a helping hand. Our team of advisors, staff, and clients worked side-by-side to revamp their warehouse. We were honored to be the first group allowed to volunteer after the covid shutdown. Little did we know that this one-time event would morph into our annual Jonathan's Place supply drive.
Birth of a Summer Camp Supply Drive
We received an email offering donation opportunities and felt called to help. We settled on holding an annual drive for their summer camp donations. All supplies collected come from our clients and team and any items not purchased are picked up by GWA.
Since then, our team has held a couple of successful supply drives benefitting the children who are currently on campus at Jonathan's Place. So far we have collected arts and crafts supplies like beads, paint, and canvases, and journaling supplies like colored pens and inspirational stickers. We've also collected t-shirts for tye-dye, baking goods, snacks, sports equipment, outdoor movie equipment, and a karaoke machine. One of our clients even purchased tickets and food vouchers and sent all of the children on campus to Six Flags.
About Jonathan's Place
Jonathan's Place is a private, non-profit 501(c)3 organization providing emergency shelter, residential care, and specialized services to newborns and children up to 18 years old. Learn more at www.jpkids.org.