Annual Children's Coat Drive
November, 2022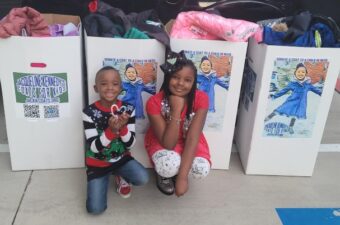 With record cold temps the last several winters and more of the same expected, we discovered a special nonprofit that is working to ensure all children in the area have a warm coat for the cold winter weather. The organization is Jacqueline Kennedy's Coats for Kids and was founded by a caring young student who wishes to make a difference in the community.
Meet the Amazing Young Jacqueline Kennedy
Inspired during a normal drive to school on a cold day, Jacqueline Kennedy saw a child walking without a coat. Moved by the scene, she wanted to offer her own coat. Unfortunately, the child was much older and it wasn't the right fit. That day, a promise was made that she would do something special to get coats for kids who have none.
Coat Drive Results
As part of our annual holiday coat drive, we send a message out to clients and friends alike. With online shopping, they are able to participate regardless of where they live.  To date, we've collected over 200 new and gently used children's coats. The coats are then delivered to the nonprofit during the first week of December so they can process them and schedule coat delivery events throughout the community.
The organization also hosts a backpack supply drive in the summer and helps deliver them to children in need before the school year begins.
Giving Back
As part of the GWA Gives© program, we support small nonprofits that share our mission of giving back to the communities in which we live, work, and play.