A Job Talk with Recent College Grads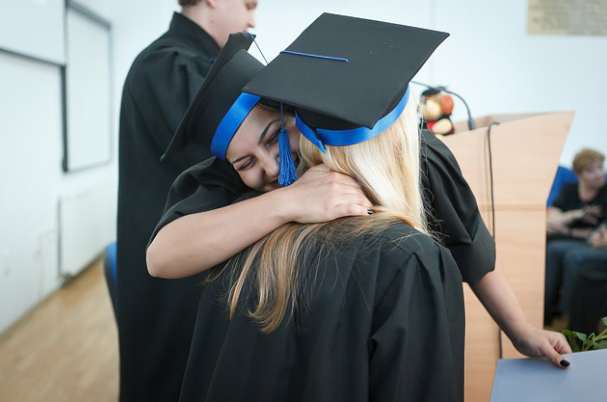 The job market may have improved over the past year or so, but for recent college grads, it may still offer some challenges. The good news is that you've spent your time studying and working hard to earn your degree and have built the useful research skills necessary to find the right job. Several resources can help you put your best foot forward:
How does a resume tell a story?
There are plenty of resources online for layout and design, just make sure you match it to what is expected in your industry.
Resume. When designing your resume, consider that scanners may be used to rank it based upon keywords and other identifiers. Just like a company that designs a website uses keywords and metadata, make sure you sprinkle the appropriate industry terminology and key skills throughout your resume. Searching for job listings in your field can help you determine what those keywords and skills might look like. Most importantly, keep in mind that it is likely a human resource specialist will also be reading your resume, so make sure your keywords look natural and make sense.
There are many design options for resumes so check around in your field of study to see what is most appropriate. Also, today's readers often scan text rather than read it in-depth. Provide employers with textual cues that help them understand your skills and experience, like adding titles, subtitles, and bulleted lists that are easy for them to find information.
Portfolio. For certain fields like fine arts, technical arts, and communications, a portfolio is a requirement and there are plenty of free sites where you can create one, such as Wix. You don't need a massive selection of work for an HR specialist to look through, two or three examples of your best work are better than publishing a bunch of mediocre work. You may even want to take some time to rework or improve some of your past projects now that you have a bit of time on your hands.
When setting up a portfolio, remember that today's readers are highly visual. Offer them a rich visual experience with imagery and video that you embed. It's easy to make web-quality videos using PowerPoint, by creating a slideshow progression of your project from concept to completion. You can play with animations and timings and save your work as an MP4 file. Upload the file to a video platform like YouTube or Vimeo and grab the code to embed the video in your portfolio.
Remember, a reader's time is usually limited so you need to capture their attention quickly. Generally, you have two minutes to hold anyone's attention so consider how much time it takes for a prospective employer to peek at videos and scan through your work. Also, make sure you limit any fancy animations or sounds so as not to distract from your work.
Clean up your social footprint
Be sure to spend time searching your name and online presence to see what your digital footprint says about you. Are there public social media photos you meant to lock down? Are there old profiles that need to be deleted? Doing this early in the job search enables web crawlers to update search engines before you get into the thick of a job search.
Brand you. You'll want to spend some time branding yourself. You may want to create consistent profiles across all the social media platforms you use, such as Instagram, Twitter, and Facebook. This means updating your profile and cover photos to make them look professional and help tell your story. Thanks to a lot of generous creative folks, there are free sites such as Pixabay to locate royalty-free, no attribution imagery for your cover photo.
Create a LinkedIn profile. Make sure you continue building your story as an addendum to your resume. Take advantage of the large character count on LinkedIn which enables a deeper description of your volunteer activities, coursework, awards, and class projects.
Build a professional network. Use LinkedIn to connect with professors, advisors, coworkers, recruiters, family, and friends. Connecting with and engaging professionals and decision-makers may help you unearth job opportunities. Also, with the advanced search function, you can find professionals at companies you hope to work for and reach out to them to schedule an informational meeting.
Join the crowd. You'll be able to see what the current hot topics are in your chosen field and engage in social listening by signing up for industry newsletters and joining groups and forums relevant to your field. The discussions may even give you something relevant to discuss during the interview process to show you are knowledgeable.
Get your financial house in order
The last thing you want as a recent college grad is your finances to take time away from the job search. Here are a few things to keep in mind:
Student loans. If you have student loans, you'll want to keep in contact with the loan servicer. If you are nearing the end of your grace period, usually six months after graduation, you may be able to work with your lender to defer loan payments until you have an income.
Establish a budget. If you're living off savings or money from a part-time job, you should reduce expenses and create a budget. An easy way to make a budget is to use your bank or credit card statement where your usual spending is listed in one place. List what you earn and what you owe. Separate essential and non-essential spending. You can also take advantage of free online calculators to see where you stand on your home budget, paying off credit card debt, and compounding savings. If your expenses are greater than your income, you'll need to get serious about your spending. If expenses are less, you have an opportunity to set aside some money for an emergency fund, savings or to pay down debt.
Create an emergency fund. Experts recommend setting aside six months' worth of expenses in case you become disabled or lose your job. Even starting with small contributions can help you build your fund.
Unearthing opportunities takes effort
As a recent college grad, there are many places to seek out jobs so take some time to research what works for your industry.
Start with your school's career center. Make sure you are registered and take advantage of any free resume reviews, mock interviews, and job fair opportunities they might offer. Some schools even publish a job board.
Tap into online job search engines. There are plenty of online job search aggregates where you can look for job offerings like Indeed, LinkedIn, Glassdoor, and Monster. Make sure you tailor your resume and cover letter to each job you apply for if you want the best chance of being selected.
Government jobs. With some digging, you can seek out local municipal jobs by visiting city websites. Most states have job pages as well, and national government jobs can be searched for on USAJOBS.gov.
Find a mentor. A successful professional can help guide you along your career path, offer objective observations, and give you the confidence you'll need to move up the ladder. Depending upon your budget, find a trusted friend or seek out an expert job coach.
Be open to new opportunities
Your first job outside of college may not start you off in your chosen field, but it can be an important stepping stone toward your dream job. Remain open to new opportunities and use them as a means of getting your foot in the door, building a network, learning new skills, and perfecting the ones you have.
Internship. Starting as an intern may be a common practice in your industry. Internships may also offer a way of adding the skills necessary to move into your desired job, and they may even turn into a full-time position.
Volunteer. If you cannot find a job right away, consider volunteering. You can learn new skills, increase your network and add credence to your resume. Besides, you never know what other professionals you may meet that may have an inside track on job opportunities.
What if you don't get that job you wanted?
Don't beat yourself up. Sometimes a company's culture is not a good fit with our values. Use the interview process as a learning experience to help you identify the type of culture that is good for your future growth. Don't let what you perceive as lost opportunities take your attention away from finding potential opportunities. Stick to your search, and you will unearth something that fits your personality, knowledge, skill set, and experience.
Check out our additional articles for budgeting and financial tips.
###
Pamela Engstrom is a communication specialist with over 15 years of experience in marketing communications. She serves as director of communications for Global Wealth Advisors located at 4400 State Hwy 121, Ste. 200, Lewisville, TX 75056. She can be reached at (972) 930-1238 or at pamela@gwadvisors.net.
©2021 Global Wealth Advisors
Back To Blog