What You Do When Nobody's Looking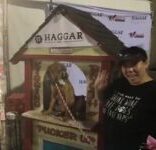 GWA Client Relationship Manager Tiffany Chen has a soft spot for fostering rescue dogs
By Kris Maksimovich, AIF®, CRPC®, CPFA®, CRC®:
Open the Facebook page for DFW Rescue Me and it isn't hard to see why GWA Client Relationship Manager Tiffany Chen loves working with rescue dogs. There is a unique joy that comes from fostering rescues, particularly when you get to be part of that special moment when someone offers a forever home to a dog that was rescued from very difficult circumstances.
For the past several years, Tiffany has volunteered for DFW Rescue Me, fostering a number of dogs in her home until they can be permanently placed. She also serves as the organization's medical coordinator, handling all of the dogs' medical records, scheduling their vet appointments, surgeries and vaccinations, and acting as the main point of contact between the adopters and their new pet's medical records, including microchipping.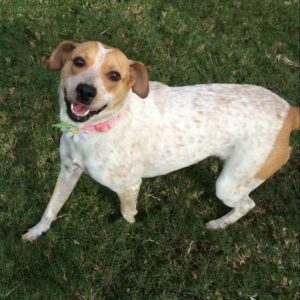 Recently, Tiffany spent time at the Texas State Fair during the organization's 24-day adoption extravaganza. She could be seen manning the DFW Rescue Me Kissing Booth at the Bark at Fair Park facility during the fair, where rescued dogs stood ready to kiss and love on anyone willing to take in some puppy love. This annual event helps place between 80-100 dogs each year and is an important part of helping the organization reach their adoption goals. This year, some of the dogs featured came from Houston after the organization transferred 25 dogs from local shelters to make room for those displaced during Hurricane Harvey.
According to the DFW Rescue Me website, an estimated six to eight million dogs and cats are euthanized each year. The organization's goal is to provide a positive impact on adoptions, teach responsible pet ownership and advance the importance of spaying and neutering. As part of their Justice Fund and outreach for abused and neglected animals, dogs that are rescued from abuse and neglect situations are given the last
name of Justice. They are named so, after a four-month-old Pitbull mix puppy named Justice had received unthinkable abuse several years ago.
Social Responsibility
This story is another example of how GWA and our employees are deeply committed to improving the communities in which we operate. We are blessed to be able to give back to DFW Rescue Me, and much of our community service energies are focused on providing meaningful impact through volunteer efforts as well as donations. We do this because we care, and because our neighbors and healthy, thriving communities are incredibly important to us.
###
Kris Maksimovich is a financial advisor located at Global Wealth Advisors 4400 State Hwy 121, Ste. 200, Lewisville, TX 75056. He offers securities and advisory services as an Investment Adviser Representative of Commonwealth Financial Network®, Member FINRA/SIPC, a Registered Investment Adviser. Financial planning services offered through Global Wealth Advisors are separate and unrelated to Commonwealth. He can be reached at (972) 930-1238 or at info@gwadvisors.net.
©2017 Global Wealth Advisors
Back To Blog